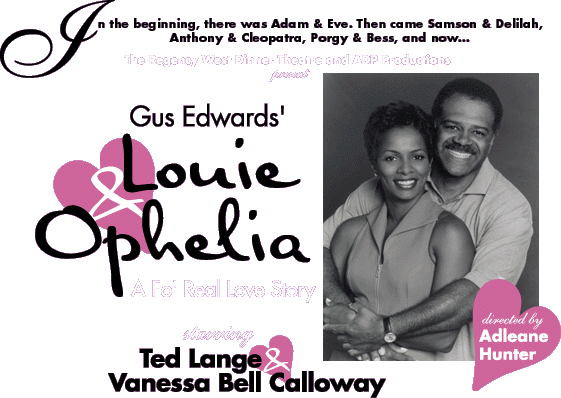 THE CRITICS ARE RAVING…
"...difficult to imagine better chemistry than that
displayed between Lange and Calloway...
Solid values in an entertaining package --
and dinner too! Hard to top that menu."
-L.A. Times
"Light the black love incense and get out the oils!
Gus Edwards' romantic tour de force offers plenty of room
to work romance and realism on us."
-Critic's Pick, Backstage West
"True romance; Lange and Calloway have chemistry."
-Mark Burger, The Winston-Salem Journal
"Lange can still make the women swoon and
Calloway will make jaws drop!"
-L.A. Watts Times
"…difficult to imagine better chemistry than that displayed
between Lange and Calloway…Solid values in an entertaining package --
and dinner too! Hard to top that menu."
-L.A. Times
Back to top

EXTENDED AGAIN - DON'T MISS OUT!
Playing Saturday, November 4 & 11 at 8:00 PM
Sunday October 8, 15, 22 & 29 and
November 5, 12 & 19 at 2:30 & 7:00 PM
Foodservice at 6:30 PM on Saturdays and
1:00 and 5:30 PM on Sundays. Foodservice ends half an hour prior to curtain.

(Click on an image to see a larger version)

INGLEWOOD TICKETS 310.671.6400
Group Rates Call: 310.785.9327
$35* Matinee (in advance)
$40* Matinee (at the door)
$40* Evening (in advance)
$45* Evening (at the door)
*Includes scrumptious basket of catfish strips and chicken wings.


TED LANGE

Ted Lange certainly exemplifies the "Renaissance Man" Theatre Award that he received from the Los Angeles NAACP and the Lifetime Achievement Award, from the HAL Awards. Most recognized for his classic ten seasons as "Isaac Washington" on The Love Boat, his television career also includes That's My Mama and guest appearances on Evening Shade, Family Matters, The Tonight Show with Jay Leno, and Malcolm and Eddie. His theatre acting career spans over forty plays, including August Wilson's Piano Lesson, Galileo, a national tour of Driving Miss Daisy, Love Letters, Sunshine Boys, Biloxi Blues, and Ain't Supposed to Die A Natural Death. He made his Broadway debut in the musical hit Hair, and was later featured in the national touring company of Hair.

An award winning director, Lange received the Artistic Director Achievement Award as Director of an original play for his comedy Lemon Meringue Fagate and the Drama Logue Award for outstanding directing of The Visit. He also received the Oakland Ensemble Theatre's Paul Robeson Award and the James Cagny Directing Fellow Scholarship Award from the American Film Institute.

Ted is a graduate of London's Royal Academy of Dramatic Arts. His passion for Shakespeare has led to the roles of "Petruchio" in Taming of the Shrew, "Bottom" in Midsummer Night's Dream, and leads in Macbeth, King Henry VI and Romeo and Juliet. Other credits include Othello, which he starred in and directed at Inner City Cultural Center and Born a Unicorn, written produced and directed by Lange. Born a Unicorn, a rock'n roll musical depicting the life of black Shakespearean actor Ira Aldridge, evolved into the Ira Aldridge Acting Awards, an annual competition designed to showcase minority actors for the Hollywood film and television industry.

As an author, Ted has written sixteen plays including Soul Survivor staged at the National Black Theatre Festival in North Carolina in 1995; Four Queens - No Trump awarded best play of 1997 from the Los Angeles NAACP Theatre Award, has played in Los Angeles, Cleveland and Chicago. As a film author, Ted has created over a dozen screenplays including seven Love Boat scripts.

Also an adjunct professor at the School of Cinema/Television at USC, where he has taught courses in film direction. He believes "the duty of the artist is to find his muse, the let her rip."

For more information, visit

www.tedlange.com.

VANESSA BELL CALLOWAY
Vanessa has clearly emerged as one of America's hottest actors. The quiet intensity of her performances always leaves you wanting more, and with each, she shows her diversity and presence that separates her from the rest. She will be starring in her own BET/ARABESQUE film entitled A Private Affair set to air on BET this spring. Later this year she will be co-starring in the independent feature Love the Way. Fans still remember Vanessa for her role as the almost bride in Paramount Pictures' Coming to America starring Eddie Murphy and as the sultry "Yvonne Caldwell" on ABC's All My Children. Vanessa has been nominated for five NAACP Image Awards for such roles as "Jackie", an Ikette in Touchstone's film What's Love Got To Do With It starring Laurence Fishburn and Angela Bassett, and "Johnie Mae" in NBC's mini-series The Temptations.
She is an accomplished dancer trained by Alvin Ailey, George Faison and Otis Sallid. She appeared on Broadway in Michael Bennett's original production of Dreamgirls, Disney's tele-film Polly and a CBS production of Stompin' at the Savoy, both directed by Debbie Allen. One of her most memorable roles to date was her portrayal of "Maggie" on the CBS series Under One Roof with Joe Morton and James Earl Jones. Included among her many guest star roles on television are Moesha, The Gregory Hines Show, Touched by and Angel, Equal Justice, LA Law, A Different World, Dream On and China Beach. She co-starred opposite Sylvester Stallone in Universal Pictures' Daylight, HBO's releases of the Cherokee Kid with Sinbad, and The American Dream: The Boy Who Painted Christ Black with Wesley Snipes and Jasmine Guy.
Vanessa is married to Dr. Anthony Calloway and they have two lovely daughters, Ashley and Alexandra. She is known for her humanitarian efforts. For the past decade, she and her husband have hosted a Thanksgiving party for the homeless -- her "Thanks for Giving" party.

Regency West Dinner Theatre
3339 West 43rd Street (3 blocks East of Crenshaw Blvd.)
copyright 2000 Shen Designs